CUSTOM SWIMWEAR MANUFACTURERS
Stitching Your Swimwear Dreams!
Your Go-To Elite

Swimwear Manufacturers USA
Setting Trends in Aquatic Fashion
As premium private-label swimwear manufacturers, we enjoy creating chic and fashionable swimwear and have a soft spot for the timeless classics. We can handle all of your beachwear production and manufacturing needs for everything from modest one-pieces to men's board shorts to bikinis. As your one-stop swimsuit store, we produce creative bikinis and classic one-pieces.‍
Designing a swimwear collection, whether you're a growing fashion label or an established one, poses its challenges. Yet, partnering with the designers of Seam Apparel ensures your efforts yield rewarding outcomes. Our commitment to delivering top-tier custom clothing guarantees your designs translate into a diverse range of premium swimsuits and bikinis.
Our team of swimwear manufacturers stands out in the ever-expanding industry of swimwear and bikini companies seeking superior swimsuit manufacturers. Fueled by technological advancements and innovative practices, we meet your demand for high-quality items. Seam Apparel emerges as a reliable partner for crafting bespoke swimsuits and bikinis tailored to your specifications.
Employing our meticulous attention to detail alongside your captivating designs, we forge creations that redefine your brand identity and captivate the swimwear market. Seam Apparel doesn't just produce garments; we curate a swimwear line that resonates profoundly with your target audience, fostering a meaningful connection.
Exclusive Collection by Premier

Bikini Manufacturer USA
We've tailored our operational processes to suit small-scale swimwear enterprises and large clothing corporations. Our seasoned custom swimwear manufacturers understand the momentary nature of fashion, and thus, we dedicate ourselves to keeping pace with the latest trends. Our pride lies in an extensive range of fabrics and manufacturing abilities, offering a diverse array of bikinis and custom-designed swimwear with numerous cuts and swimsuits in varying shapes and sizes.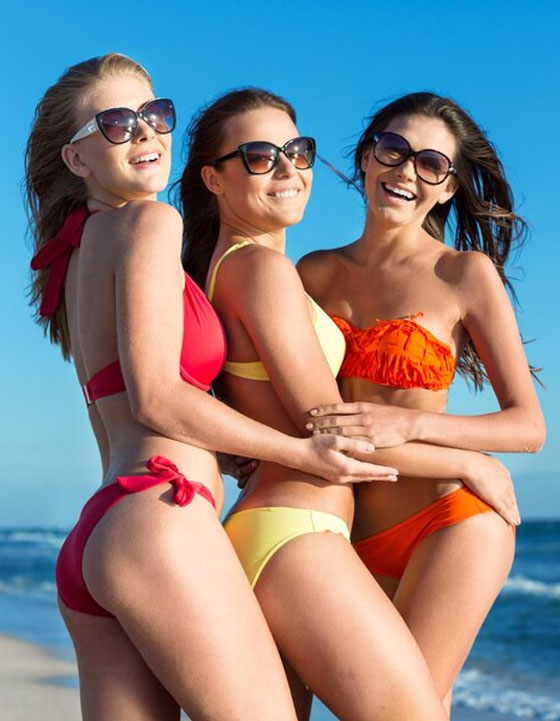 Bikini:
As an expert bikini manufacturer, our collection features diverse styles and quality materials, ensuring comfort and style for beach days. Explore an array of designs tailored to fit various preferences and body types effortlessly.
One-Piece Swimsuits:
Discover elegance and comfort in our One-Piece Swimsuits range. Our collection is designed to suit diverse body shapes and combines sophistication and support, ideal for relaxing poolside lounging or seaside activities.
Tankinis:
Find versatile coverage in our Tankinis selection. Offering longer tops with various bottoms, these ensembles provide individual style and comfort, perfect for dynamic beach outings or relaxed sunbathing.
Monokinis:
Explore our Monokinis for a blend of chic design and beach comfort. Featuring unique cut-outs and modern styles, these swimsuits make a statement, adding a fashionable edge to your beachwear.
Boardshorts:
Experience comfort and functionality with our durable Boardshorts. Crafted in various lengths and durable materials, these shorts cater to water sports enthusiasts, offering style and practicality for beach activities.
Rash Guards:
Stay protected and stylish in our Rash Guards. Made from premium materials, these form-fitting garments offer sun protection and flexibility, catering to surfers and active beachgoers seeking comfort and safety.
Swimsuit Manufacturers USA
Setting Trends with Quality Swimwear Fabrics
Our dedicated team of private-label swimwear manufacturers USA invests tireless efforts to curate the finest fabrics, always prepared and available for beach clothing creation! At Seam Apparel, we deeply value the significance of time. Being a US-based swimwear factory, you can rely on us to deliver the speediest turnaround once your order is confirmed.
At Seam Apparel, we prioritize quality and comfort in crafting our swimwear. Our range of custom-made swimwear fabrics is carefully selected to ensure durability, flexibility, and a comfortable feel for every design. Nylon fabric is our producer's popular choice for its lightweight and quick-drying properties. It offers excellent stretch, making it ideal for various swimwear styles while maintaining shape and color vibrancy even after frequent use.
Polyester is another fabric our makers utilize due to its elasticity and ability to withstand exposure to chlorine and sunlight. This fabric retains its shape well and provides excellent colorfastness, ensuring longevity in swimwear products. Our creators also incorporate blends like nylon spandex or polyester spandex for enhanced elasticity and a snug fit. These combinations offer the flexibility needed for active beach days or water sports while providing ample support.
As leading private-label clothing manufacturers, our commitment to comfort extends to using soft and breathable fabrics like microfiber or Lycra, ensuring a pleasant feel against the skin while offering freedom of movement. Additionally, we pay attention to sustainable options, incorporating eco-friendly fabrics like recycled nylon or polyester in our swimwear line, contributing to a more environmentally conscious approach. At Seam Apparel, our swimwear fabrics are thoughtfully chosen to withstand sublimation printing and deliver both style and functionality, ensuring a pleasant and lasting swimwear experience for our customers.
A Collection to Showcase Our Diverse Range of Projects!
Here's a Seam Apparel beach clothing manufacturer's comprehensive picture gallery, an organized collection representing my professional journey. A wide range of projects, accomplishments, and innovative endeavors demonstrate my skills, creativity, and dedication to excellence across swimwear manufacturing businesses.