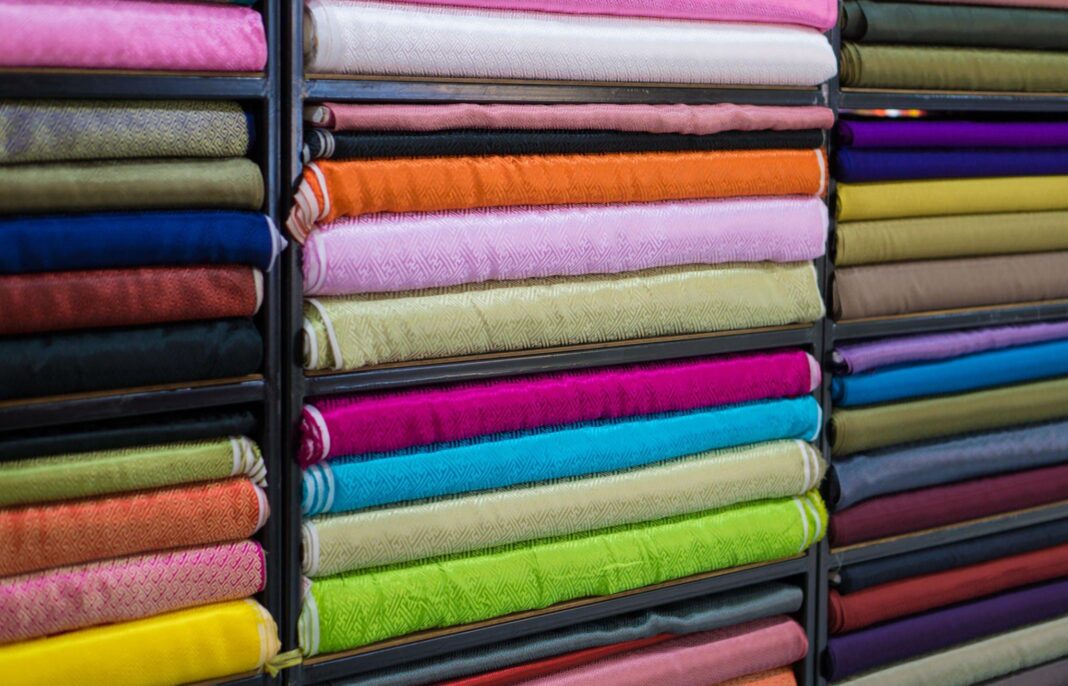 In the summer, it's important to wear lightweight clothing for both comfort and style. Your tailored clothing should be able to withstand the heat as temperatures rise and wardrobes alter. With this guide to the best summer textile fabric types, we'll help you keep your personalized clothing fashionable if summer rolls around and you're staring at boxes of branded heavy sweatshirts.
Numerous applications exist for lightweight materials. These can be used to create home decor, wedding attire, scarves, sashes, blouses, lingerie, fancy gowns, and more. To help you make dresses, we've put together a list of 11 lightweight fabrics.
Lightest Fabric
Thin, drapey, and frequently transparent are the characteristics of lightweight materials. Most fibers can be used to create them. Visit all about fabric to review the fundamentals if necessary.
They can be formed of nylon, polyester, silk (with tips on how to purchase silk cheaply), rayon, cotton, and linen. They can be softly woven or flexiblely knit, but chiffon, challis, lace, charmeuse, satin, and lining are frequently found in these materials.
Lightweight fabrics can be challenging since they have no give but stretch a lot on the bias. They are slick and may move around a lot while you sew.
Additionally, because they are so light, you cannot treat them like conventional fabric. How can the unfinished edges of sheer textiles be finished so they don't show?
11 Best Lightweight Fabrics For Dress-Making
In the winter, a structured, heavy dress may be appropriate, but in the summer, you'll want something a little breezier. lightening up a bit. The greatest lightweight material for dresses, nevertheless, is what?
It depends, as it does with most things. Crepe has a certain texture that some people appreciate, whereas voile is more practical for everyday use. You can't go wrong with any of these great textiles, no matter what your preference, because:
Lawn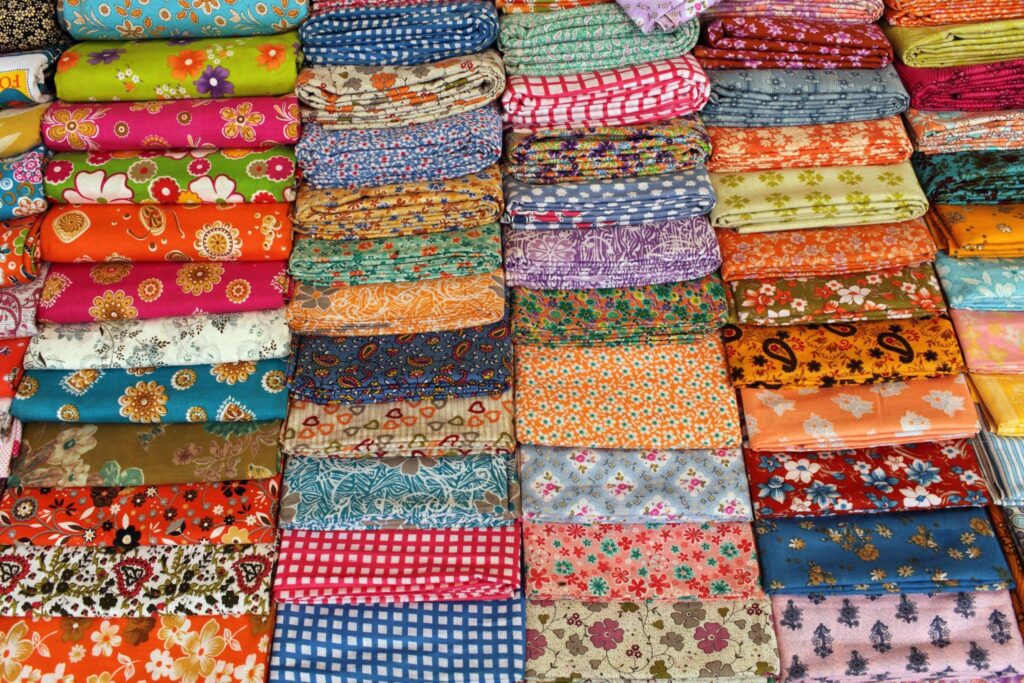 The lawn is a plain-weave cotton thin fabric that is semi-transparent. The finer threads used to create this fabric give it a smooth feel. This light cloth dries rapidly and is incredibly breathable. The fabric is bleached after weaving to make it completely white and ready for printing. Different printing patterns are created during the printing process in response to customer demand.
Blouses, shirts, dresses, nightwear, lingerie, handkerchiefs, and other sorts of lightest clothing materials are frequently made from the lawn.
Cotton
Cotton is by far the most commonly used lightweight shirt fabric. Cotton is the most widely used fabric in the world, and for good reason. Cotton, because it is breathable and suitable for all conditions, is especially useful when it is hot outside, in both wet and dry heat. Cotton is tough and has many different applications, from garments to coffee filters. There are numerous varieties of cotton materials available for clothing. Which cotton fabric types work best for summer, then?
Chambray: Although it feels considerably lighter and softer than denim, chambray can have a comparable appearance. A chambray shirt is fashionable all year round because it is both durable and the

lightest fabric

enough to withstand the winter months as well as the summer.

Seersucker: A lighter version of cotton that hangs out from the body to promote airflow, is used for clothing. The Persian phrases sheer and shakar, which are translated as "milk and sugar," are the source of the English word "seersucker." The majority of seersucker textiles have alternating smooth and rough surfaces, which is probably why this name was chosen.

The city in India where it is produced gives the fabric its name: Madras. In contrast to flannel, it is lighter and frequently features a patterned or checkered pattern. Madras cotton, which has a 5,000-year history, has influenced both modern plaid fans and ancient craftsmen alike in terms of fashion.
Chiffon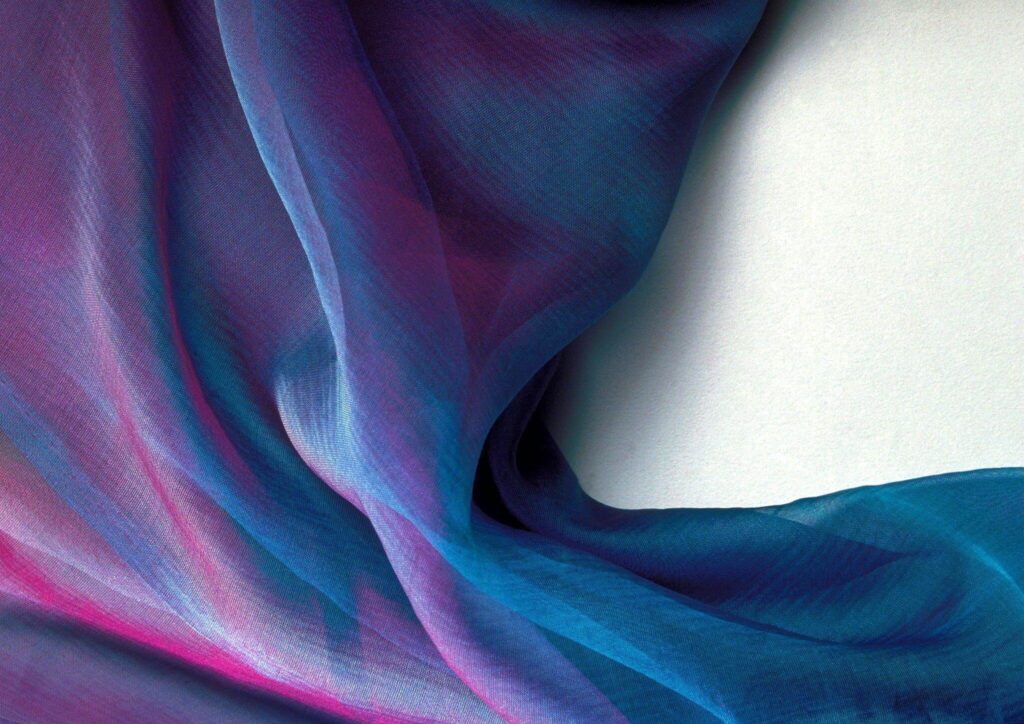 Chiffon is a flowy fabric with a lightweight and semi-transparent appearance. It has good drape ability and is quite delicate. It was initially crafted from silk fibers. Due to silk's exorbitant cost, substitute raw materials were created that are less expensive than silk, such as lightweight cotton, polyester, and viscose.
Despite having a minimal capacity to retain heat, it is highly breathable. Although it was initially created in France, China is today the world's largest producer of chiffon. Chiffon is used to create a variety of items, including scarves, blouses, evening attire, and nightwear.
Chinese Crepe
A luxury lightweight fabric constructed of tightly twisted yarn is called crepe de Chine. Originally woven of silk, it is now occasionally constructed of silk-impersonating synthetic fibers like polyester, nylon, rayon, or acetate. It has a very smooth, grainy, and sparkly texture to the touch. It offers good breathability and is wrinkle-resistant.
It boasts unmatched softness, exceptional colorfastness, and long-lasting color characteristics. Bridal gowns, skirts, blouses, and scarves can all be made from them.
Crinoline
Clothing made with crinoline, as well as craft projects, is made of this rigid fabric. It was originally constructed of horsehair, but today it can be found in 100% cotton, 100% polyester, 100% nylon, and their mixtures. To make the fabric structure stiffer and more robust, the fibers are chemically treated. Additionally, starch is utilized to stiffen it.
It supports craft, clothing, and body projects. Costumes, evening attire, hats, hoop petticoats, and other items are made with them.
Georgette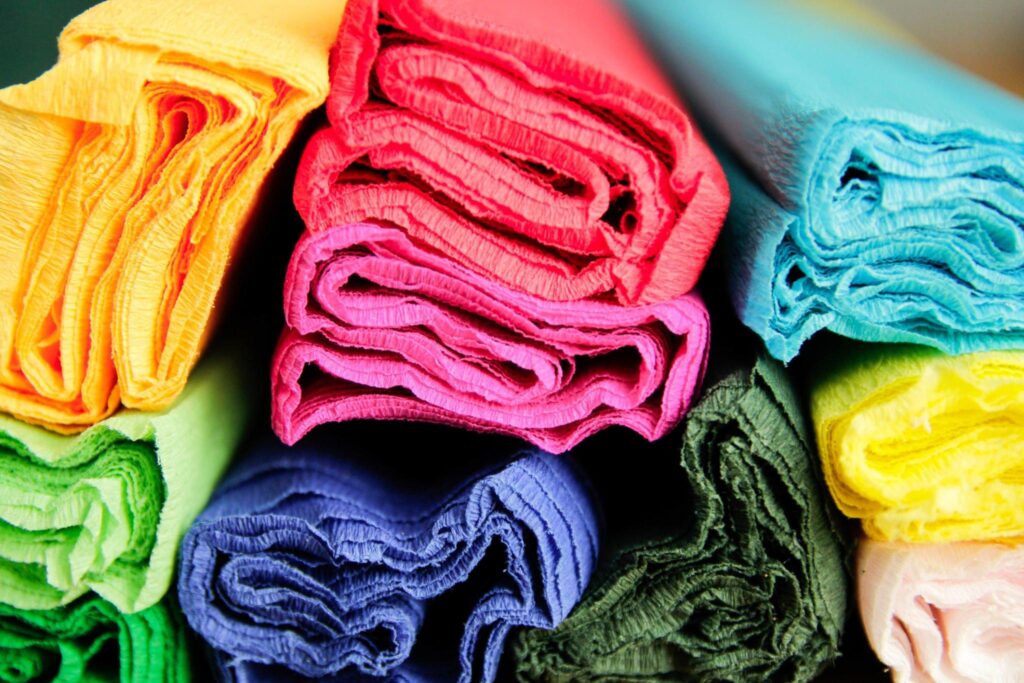 Georgette is a sheer fabric that was initially constructed of silk fiber, but it is now also produced using polyester, rayon, or viscose fiber. A lightweight woven fabric with a pebbly texture is structurally made of tightly twisted threads. The fabric is robust and has excellent tensile and tear strength. Among popular printed textiles, printed georgette is the most widely used.
It ranges in weight from 30 GSM to 80 GSM. Mostly women's clothes are made with them. Because of the development of synthetic and semi-synthetic fibers, it is now worn by people outside of the royal family. Georgette is used to create a variety of garments, including blouses, dresses, skirts, sarees, home decor, scarves, and lining.
Laces
A delicate, intricate, and structured narrow fabric is lace. To create various kinds of laces with various designs, many procedures are employed. It is a highly ornamented trim fabric used to create textiles for furniture, clothes, and the home. It is used to adorn any dress but is not used to make the full article of clothing. Originally, it was made of silk or linen, but today the most common materials used are cotton, polyester, nylon jersey fabric, and their blends with elastane.
It is an essential component of foundation clothing, bras, and lingerie. These things are made based on laces. Additionally, it is employed as a trim fabric for the creation of bridal gowns, dresses, curtains, lampshades, etc.
Net
A net is a lightweight, open-structured knit fabric with many holes or open spaces. Depending on the knitting method, the hole shapes can be square, hexagonal, or octagonal. The procedures used to create net fabrics are tricot, Rachel, and bobbinet. But the most typical way to create net fabrics is with raschel. Silk, polyester, nylon, or viscose can all be used to make this fabric.
It is frequently embroidered, flock printed, or glitter printed to add some flair. It is employed in the production of lingerie, hosiery, pantyhose, fancy garments, and swimming suit fabric.
Organdy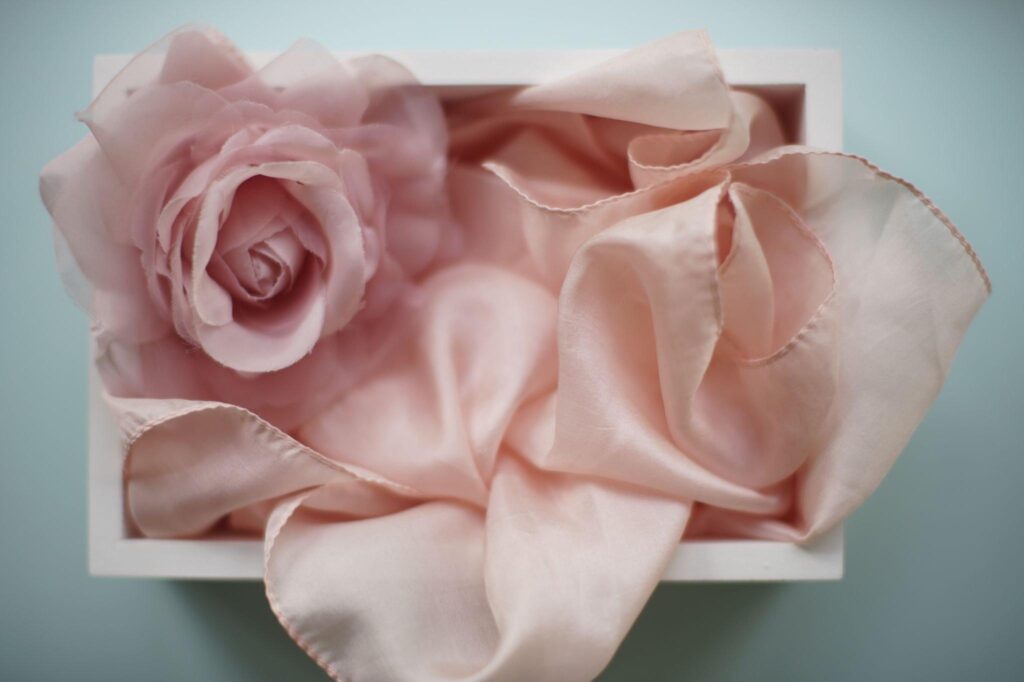 Having smooth and shiny types of fabrics surface, organdy is a thin, sheer, and sharp fabric. To make the fabric stiff, a starchy finish is applied. It used to be made of linen, but nowadays it's more likely to be cotton, polyester, or nylon fiber. Combed yarn is used to create the plain weave cloth. Organdy has several drawbacks as well. It wrinkles easily and requires fine ironing to look like the original, which is its biggest drawback. It is utilized in the creation of dresses, aprons, collars, cuffs, children's clothing, baby clothing, and children's clothing.
Tulle
Tulle is a thin, lightweight net material. Silk, nylon, polyester, or viscose fibers are used in its production. But the most often used of them all is polyester tulle. A huge fabric dyeing process and designs are possible. When it is made of viscose or nylon, you can even color it at home. Sometimes luxury tulle fabric with an allover glitter print, embroidery, or rhinestone attachment is also found. Smaller holes and their softness make for a greater drape.
If you want to build a fancy outfit, you might not be able to find any other fabric save tulle. It is used to create goods such as children's clothing, couture clothing, skirts, and exquisite lingerie. Additionally, it can be utilized to adorn buildings, floral arrangements, party decorations, and craft items.
Voile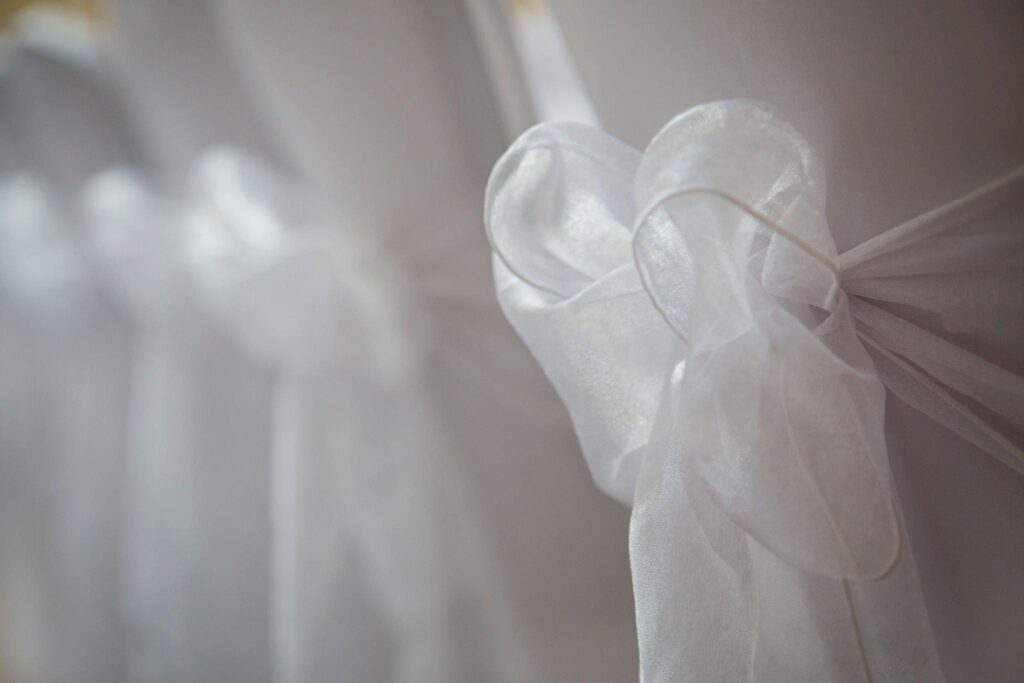 Voile is a fabric with a simple weave that is produced entirely of cotton or mostly of cotton. Of all thin cotton fabrics, it is the finest. As a result, your hands will feel quite gentle. Due to its lightness and breathability, it will be the ideal choice for summer clothes. It is available in a huge selection of hues and patterns. In the summer, it is the ideal fabric to use for creating dresses, tops, skirts, tunics, loungewear, and children's clothes.
What Kind Of Fabric Is Strong And Lightweight?
One of the strongest fibers in the textile industry is Spectra fiber. It's interesting because it's also the lightest. It is stronger than other fabrics like polyester and is thought to be fifteen times stronger than steel. Compared to aramid fibers and other materials, this material's specific strength is 40% higher. This material is a top choice for many industrial and other uses due to its exceptional toughness and remarkable visco-elastic characteristics.
High strain-rate loads are easily tolerated by this fiber. Additionally, it is water- and chemical-resistant and light fabric enough to float, making it useful for a variety of marine applications. When compared to comparable fabrics for industrial applications, Spectra fiber stands out.
Spectra Fabric Characteristics
The weight of this substance is incredibly low. Its density of it is 0.97 g/cc. In other words, the spectrum won't sink when you discharge it in water. This item floats in the water because of its little weight.

Steel is regarded as being 15 times more powerful than Spectra cloth. In comparison to other aramid fabrics, this fabric is up to 40% stronger.

The substance has remarkable damping properties. The loss tangent and dielectric coefficients are also low.

This fiber is also thought to be abrasion and fatigue-resistant. It has a great degree of cut resistance.

High protection is provided by Spectra fabric against all hypervelocity micrometeorites and ionizing radiation from outer space.

The material resists water and a variety of chemicals quite well.

In comparison to comparable materials like polyester, Spectra fabric is also UV resistant and has a high specific modulus.

Creep is a risk with Spectra.

It is dependable and strong. It can therefore handle all types of high-load, high-strain-rate velocities.

Finally, this fabric is almost invisible to radar due to its low dielectric constant.
FAQs
Which Needle Size Is Best For Lightweight Fabric?
Not only are lightweight textiles light, but they are also delicate. That calls for a little more tender, loving care. Stick to sharp sewing machine needles in sizes 10/70 or 9/65 and avoid anything thick or dull when choosing needles.
The delicate cloth is likely to snag or become punctured if you disregard the advice and use a universal needle. Don't even consider using something sharp.
Is Linen The Lightest Fabric?
Natural flax fiber is used to make linen. Even though it's tremendously strong (it's two times stronger than cotton), it's incredibly light, which likely explains why people like to choose it so frequently throughout the summer.
Final Words
Looking for further guidance this summer in selecting the ideal fabric? Chiffon, organza, linen, lawn, lace, silk, cotton, felt, and neoprene are among the materials that are regarded as lightweight fabrics. 
For a garment brand, having a firm understanding of fabric weights is essential since they influence whether you can create the desired style.