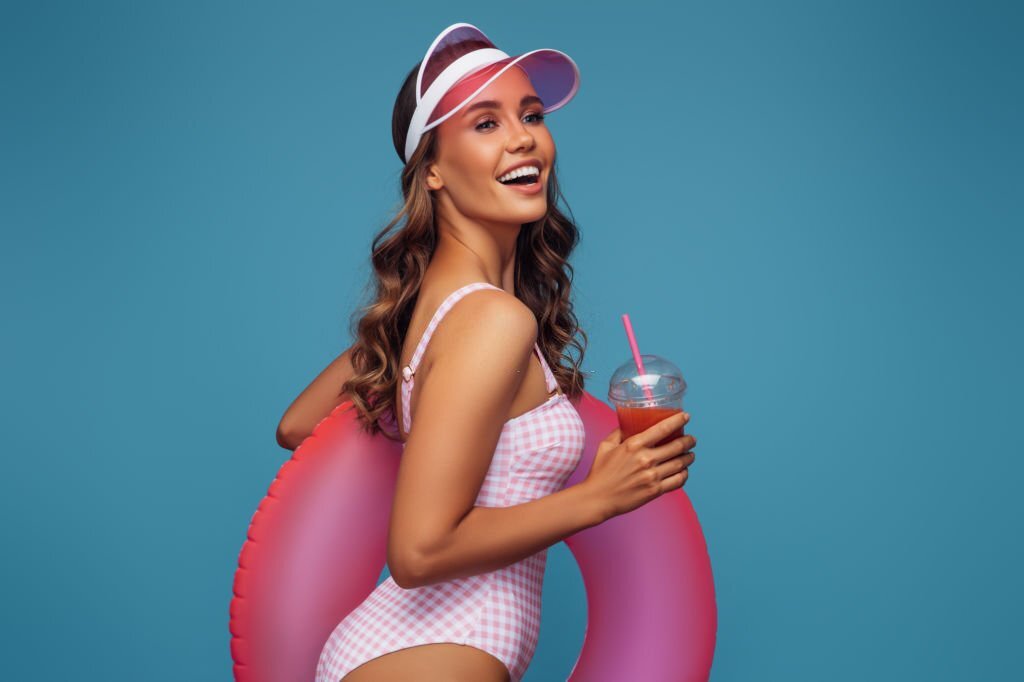 You're not the only one who has ever pondered what swimsuit material is called. Swimwear's material composition isn't often immediately obvious, just like it is with many other athletic or performance goods in our closets.
However these days, we're all asking a lot more questions about the clothing we wear, such as how and where it was created, as well as under what circumstances and using what materials. Finding goods that successfully combine the performance and longevity we require with greater ethical considerations is unquestionably a fine line to tread. There is unquestionably space for improvement in the swimsuit industry.
Selecting The Perfect Swimwear Material
What is the name of the swimsuit fabric? The general word for spandex or lycra is elastane. Don't get too caught up in the branding because Lycra, spandex, and elastane are all essentially the same material. For a cozy stretch, elastane is combined with other synthetic fibers.
Choosing the best fabric for swimwear manufacturers that fits you the best is difficult. However, it is vital to select your swimwear fabric types as it mirrors your goals as a swimmer. Your selections may differ according to the swimsuit material, pattern, colors, or style you desire.
Types of Swimwear Materials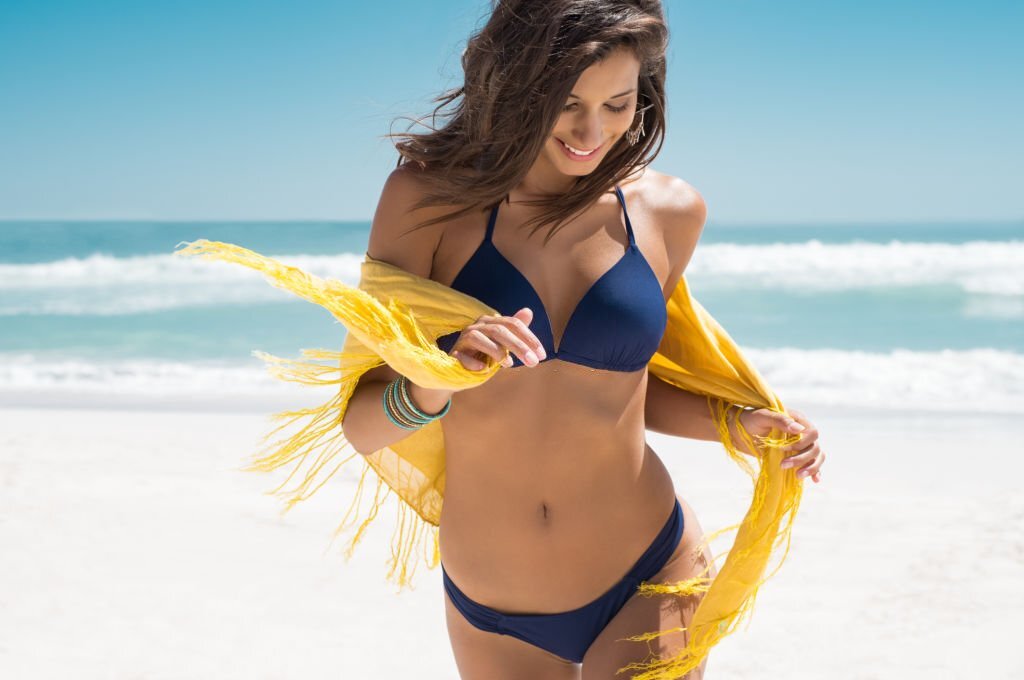 Knowing your options is important like what materials are swimsuits made of whether you're looking for a fabric for your upcoming purchase or a swimwear line. This article will discuss what fabric is used for swimsuits. As well as their properties and uses. We also investigate the weights, makes up, textures, and sustainability of swimwear fabrics.
Please keep in mind that no fabric is superior to another; rather, each fabric has unique qualities that make it more appropriate for a particular application. In addition to this, your supplier's quality matters.
Nylon Swim Fabric
It is the most popular swimsuit fabric material as it is soft and durable. It does not contain any organic components and is synthetic. However, it does not hold its color quite well like polyester. Also, it costs more than poly. A few qualities of Nylon are listed:
Resistant to abrasion
Stretchy
Resistant to stain
Soft yet durable
Resilient
Good UPF rating
Resistant to wrinkling
Easily drying
Polyester Swimsuit
Poly Swim fabric leads the swimwear production. With the help of new technologies, manufacturers have enhanced the feel of the material, beating all other types of fabric for swimwear. Polyester is chlorine resistant and holds its color. The following are some advantages of using polyester fabric to start a swimwear line:
Comfortable and soft
Excellent breathability
Resistant to scratches
Durable, resistant to shrinkage
Chlorine Resilient
Dries quickly
Stretchable
Holding shape
Easy Laundry
Spandex Swimwear
Spandex – commonly known as Elastane – is a blend of a sequence of polyurethane. While using it, you can stretch it to a specific limit and then release it to return it to its usual shape. It is like rubber. However, it may be superior due to strength, versatility, lightness, etc. Below are a few characteristics of Elastane:
Flexible
Resistant to drooping despite repeated stretching
Lightweight
Smooth
Good UPF rating
Strong and durable
Resistant to scratch
Soft
Resistant to deterioration caused by detergents, skin products, or bodily fluids
Cotton Swimming Costume
Traditionally, producers use cotton and wool to manufacture fabric for bathing suits. Its water-absorbing technology may result in drowning the swimmer. Also, the swimsuit can pull out of shape and get lost.
What Else Should You Look For In a Swimsuit?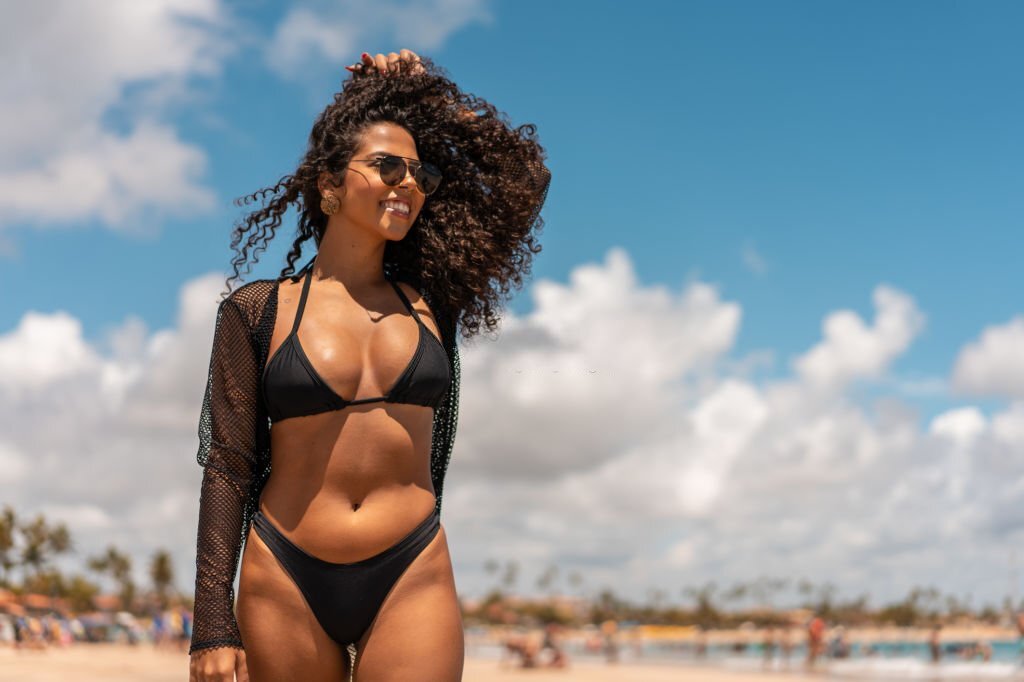 What fabric do you use to make a swimsuit, and what you should, therefore, look for when shopping? These are the top considerations to make when shopping, even though it's always a good idea to read the label to find out what materials you're dealing with.
Durability
Swimsuits should be resilient and durable. When the swimwear fabric by the yard comes into contact with UV rays and pool chemicals, it may cause degradation. The most significant element in swimsuit fabrics is the capacity to fight abrasive substances, sunshine, or chlorine damage.
Colorfast
The fabric you use for the swimsuit should be colorfast–dyed in such colors that would not wash away. Nylon fades quickly, and any ink may leak into the water as Nylon is not appropriate when considering color retention. Therefore, if you want logos on your swimsuits, it would be better to stick to polyester fabrics.
Weight
You will not want your swimming costume to be heavy to carry. The lightest fabrics will make you feel more comfortable. Also, you will be able to make it more fun when the costume is lightweight and easy to wear. Many swimsuits are light.
Cost
Swimsuits come at different prices. The choice depends on your budget. The best quality you can afford is the best fabric for you. However, you should ensure that your investment in swimwear pays you back and be the garment that will remain as good as the original after several swims.
Stretch
Companies produce swimsuits to be close-fitting to avoid falling off underwater. The fabric should be stretchy and flexible to maintain the body shape. Also, you should be able to breathe when you wear it. Thus, try finding stretchy and flexible fabrics for your swimwear.
Comfort
You swim for fun, and anything hindering would destroy your enjoyment. Likewise, uncomfortable swimwear may obstruct severely. Swimsuits should be comfortable enough to help you move your body freely. Also, it should be flexible and soft to avoid rubbing.
Sustainability
The best fabric is synthetic because of its flexibility, durability, and resilience. Synthetics are low on sustainability among all fibers. Moreover, several fabrics rely on fossil fuels heavily and are petroleum-based. However, taking recycled materials into account, you can act environmentally friendly with the effect of your swimwear.
Other Variations of Swimming Costume Fabric
Following are some of the other fabric materials one can use as swimwear fabric:
Velvet
Softness is the reason for the popularity of velvet in robes and loungewear. When it comes to softness, velvet is the softest of all. A well-blended swimsuit will give a lavish look.
Textured
Trends develop together with the swimsuit industry's continued maturation and evolution. As a result, numerous novel fabric types are tested for swimwear.
Scuba Fabric
It is a double-knit (contains two single-knit) fabric with stretch and has the same appearance on the back as on the front. Makers use Scuba Fabric to create structure in the apparel as it is stiff. It is less flexible compared to the spandex-polyester mix. However, it is opaque, resilient, and durable.
Ribbed
Swimwear manufacturers may use different types of knitted fabrics to make ribbed textures. People highly use Nylon for the ribbed in swimsuits. They may be very tight if they have less stretch. However, different compositions result in varied looks and styles.
Neoprene
It is not a fabric but a synthetic rubber. Manufacturers use it for wetsuits and as the internal layer of insulating foam to help keep surfers and swimmers warm in the cold seas or winters. Neoprene traps water and keeps it close to the skin. However, this makes means the swimmers' bodies remain wet. Also, the material may not be easy and comfortable to wear.
Others
Mesh, corduroy, and even cotton blends are more examples of fabric that can be used to make swimwear. The durability of cotton mixes, however, should be taken into consideration. It can suffer detrimental consequences from harsh swimming settings (sun, salt, sea, chlorine).
Related: Find Clothing Manufacturers who create swimwear
Determinants for Bathing Suits Fabric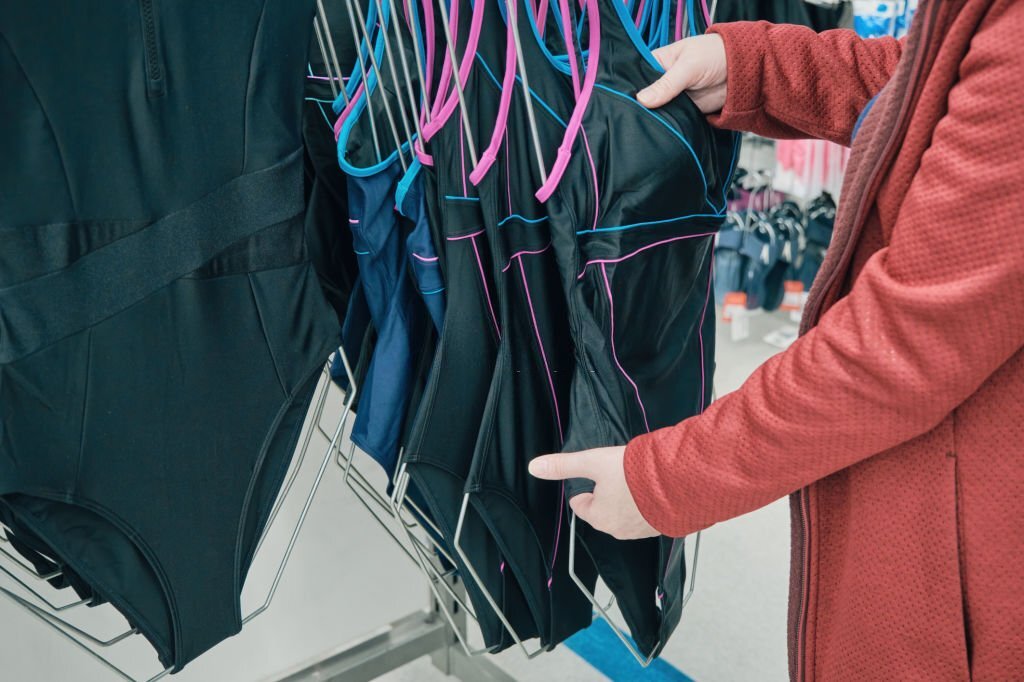 There are a few qualities the fabric you select needs to have if you want to create a comfortable swimsuit that will last for more than a season or two.
Print
Your swimming suit will get wet. The UV rays of the sunlight and chlorine might be waiting to destroy your fun. Thus, ensure selecting the one that does not lose its pattern or leak its color.
Fiber Content
Regardless of your comfort level, you better cover yourself with synthetics rather than natural fibers to avoid the droopy, damp bottom. Although natural fibers are breathable and beautiful, synthetics are the rulers when considering swimming costumes.
Opacity
You have to select an opaque swimsuit. However, to check for transparency, moisten a swatch and stretch it as far as it goes. You can use it, even if you do not find it as opaque as you want, by double-checking the lining properly.
Control
It requires a woman with high self-confidence to go to the beach without feeling exposed in her swimsuit. Selecting the material with enough control – that is, it won't grow too baggy and droopy as you swim, jeopardizing your modesty – may make a difference in how you appear and feel in the swimming costume.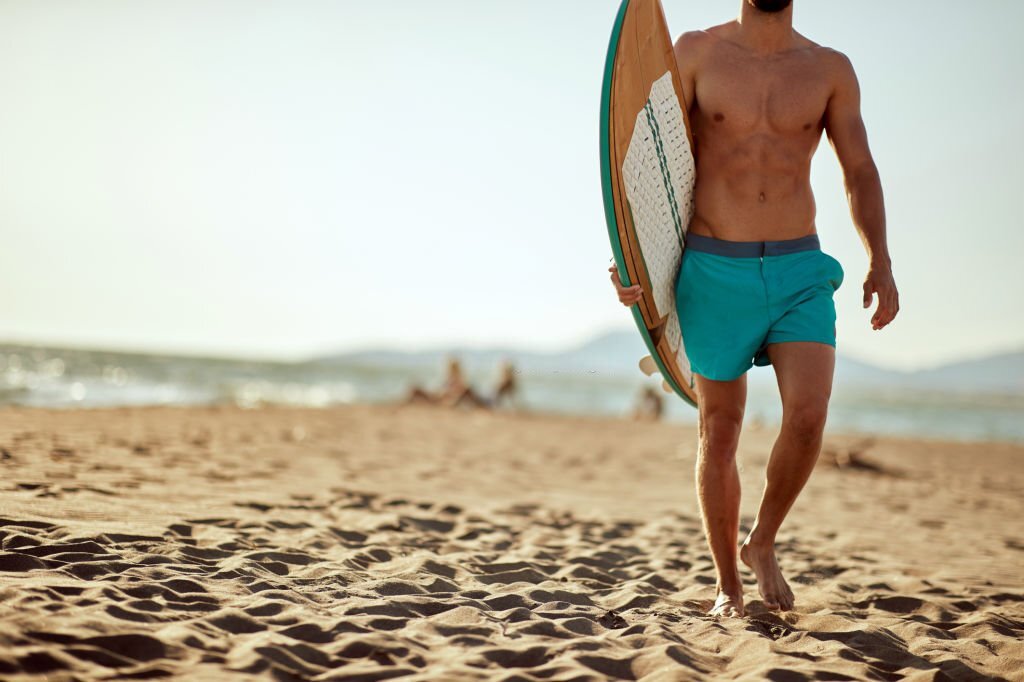 Common Questions
What Is The Best Material For Bathing Suits?
Polyester is the best swimming suit fabric. Also, Nylon and Lycra (Spandex) are some more fabrics suitable for swimsuits.
What Is The Swimming Costume Fabric Called?
The perfect fabric for swimsuits is a blend of polyester and elastane. Polyester is colorfast, and elastane is stretchy, making it an ideal combination for swimsuits to be perfect.
What Swimsuit Material Lasts Longest?
Polyester swimming garments are the most durable among all other fabrics, blended with Spandex (Lycra or elastane).
Is Nylon or Polyester Better For Swimsuits?
A mixture of elastane and polyester is the best fabric for swimming costumes. Use of elastane for stretchiness and polyester for chlorine resistance.
Final Words
What is swimsuit material? We appreciate polyester's durability and ease of printing because they are useful and the material that best serves your demands as a swimsuit, as well as bathing suit material, is that one. I also think polyester's environmental impact can be controlled more effectively than nylon's.
Nylon still has a superior feel and finish compared to polyester, though. Polyesters are getting closer to nylon in appearance and feel every year, but they still have a ways to go.
The best of both worlds is yours if you can find a polyester that you adore both in terms of appearance and texture!