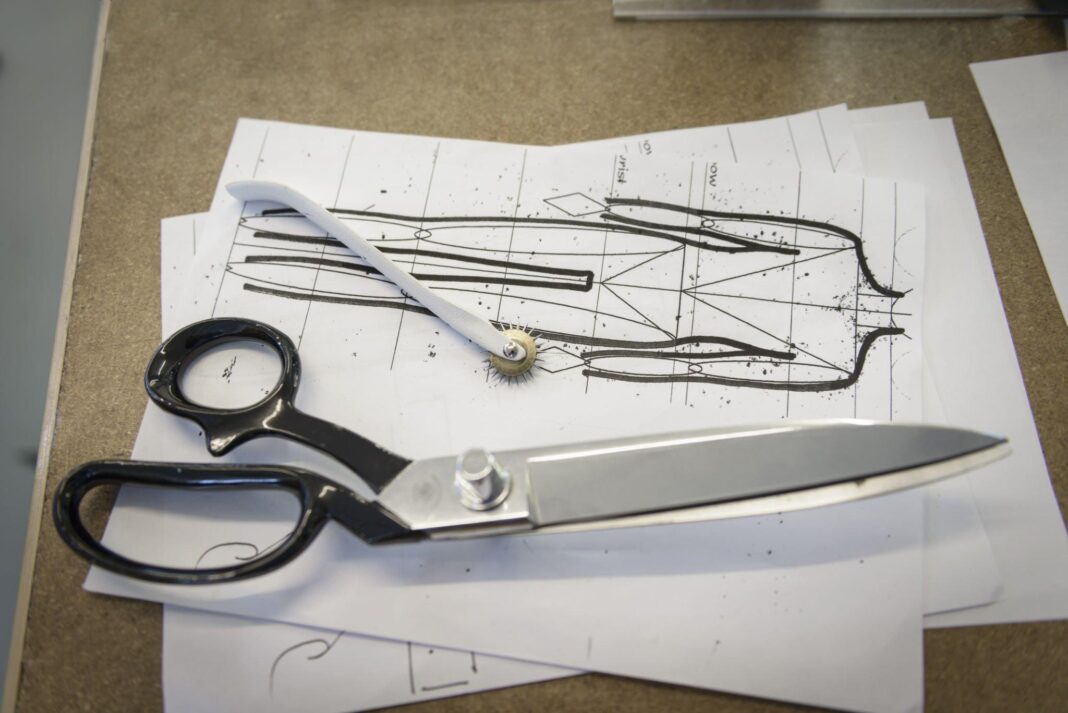 The first thing we will talk about is, what is pattern making." Patterns in fashion are used to trace garment pieces onto fabric before cutting and sewing. Most patterns are paper made.
Pattern-making fashion is the process of making a plan for the garment, which is used to cut the fabric. It is the drafting or technical drawing of a garment. Measurements are taken from standard size charts, dress forms, or people. These measurements are then turned into 2D patterns, which are then used to make clothes.
For a fashion designer to be able to make different clothes, he needs to be able to make patterns. Pattern-making is a very interesting and important skill for a student to learn. Because it helps them understand designs and figure out how to make them.
There are many ways to make a pattern. The common methods people know are flat pattern making and draping.
In making a garment, the "fit" is one of the most important things that determines whether it is acceptable or not.
A pattern fashion design An apparel maker usually makes a pattern from flat technical sketches. If you are learning how to make patterns, keep your attention on making the basic patterns. Basic pattern making is the foundation for all pattern making, fit, and design.
How to Make Patterns
Pattern-making is the art of turning a designer's basic idea for a garment into a real piece of clothing that looks good on a person. Pattern-making has been done the same way for hundreds of years with just a few simple techniques. Some clothes pattern makers like to keep things simple.
But since people have been making design patterns for hundreds of years, they have learned new ways to do it. Pattern-making is the process of turning a design sketch into a real garment. Many designers have moved on from flat patterns to making 3D patterns on mannequins or the computer. When you look at the clothing pattern design industry as a whole.
It's easy to see that pattern design comes in many different forms. Those design elements vary from company to company. But pattern making is still about making a designer's ideas come to life in the real world.
In Clothing, What Is Pattern Design?
There are two kinds of patterns.
It can be a pattern that repeats over and over on a piece of fabric.
Or it can be a flat piece of paper or card that is used as a guide to cut the different parts of a garment.
Pieces of a pattern are traced to get the right size, fit, and seam allowance. Before tracing and cutting the pattern on the final fabric. They can help the dressmaker figure out how much fabric to buy and how it should fit.
How To Make Clothing Patterns For Your Clothes?
Custom-made clothes look better than anything else. When you make your patterns, you can show off your style and personality and stand out from the crowd.
Upgrade your closet according to your interest.
You don't need the fashion pattern-making industry to tell you what to wear because you already know what you like. And maybe the fashion design patterns industry doesn't make styles that you find attractive.
Here Are Some Ways That Involve Making A Pattern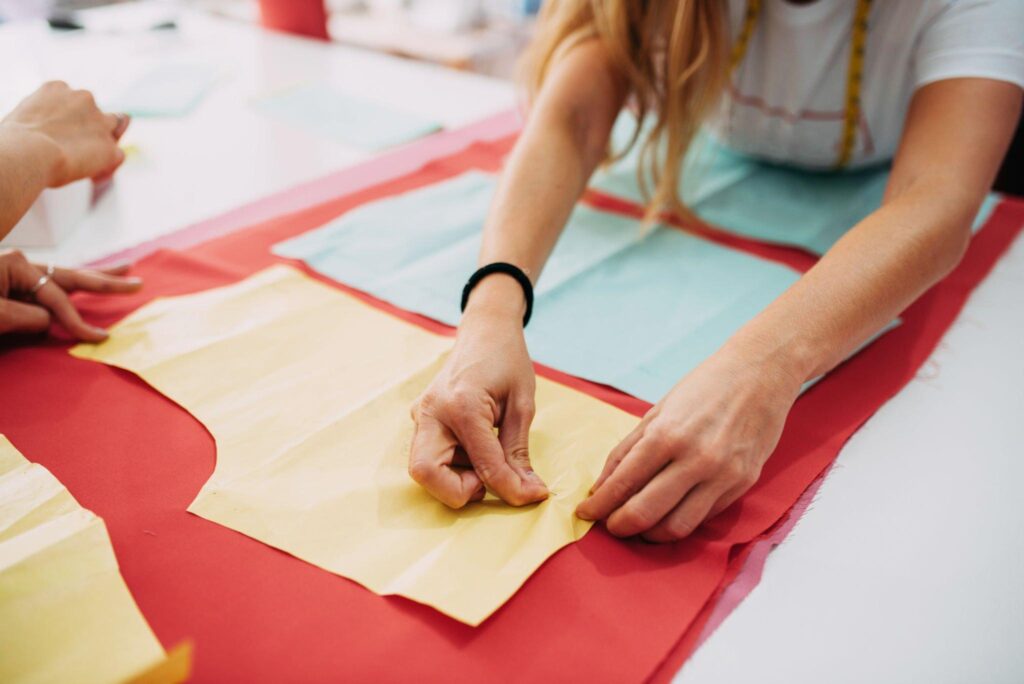 Pattern making is an art, and garment pattern making online is the art of shaping a flat piece of fabric. It helps get from the first design to the final clothing production. Different patterns can be used to make a garment out of a drawing or sketch. But it is the pattern that translates the design into the parts of the garment.
Drafting
It's used to make basic design patterns. It's a method for making patterns that involve taking measurements from a person.
Draping
It's a way to make a 3D fabric pattern by wrapping a 2D piece of fabric around a figure. The final design on paper transfers on muslin fabric placed on the figure.
The designer can see what the finished garment will look like on the body before they cut and sew the pieces. The best thing about draping is this. But the whole process of draping takes a lot of time and costs more than making a flat pattern.
Flat Pattern Making
It means making a basic pattern that fits a person or body shape well and is easy to wear. A sloper is the first step in making a flat pattern. It is a simple pattern that fits the body with enough room for movement and comfort.
Block Pattern
A block pattern is a basic pattern without any style details. It includes the garment measurement,  proportions, and posture of the body. It makes clothes pattern design with this method. It's used to make a new style of clothing quickly, with few pattern changes and corrections. 
Modeling
It involves fitting the block garment, which is usually made of toile, on a workroom stand of the right size. When the fit is right, the cloth is taken off the stand, each part is transferred onto pattern paper. Then necessary alterations are done.
Garment Pattern Maker
When using the flat method, the pattern maker draws the style lines of the garment on a copy of the block pattern. Makes the necessary changes. Then add the necessary sewing and other compensation to each component. Edges cuts along the seam lines of pieces that go together to make it easier to sew and put them together.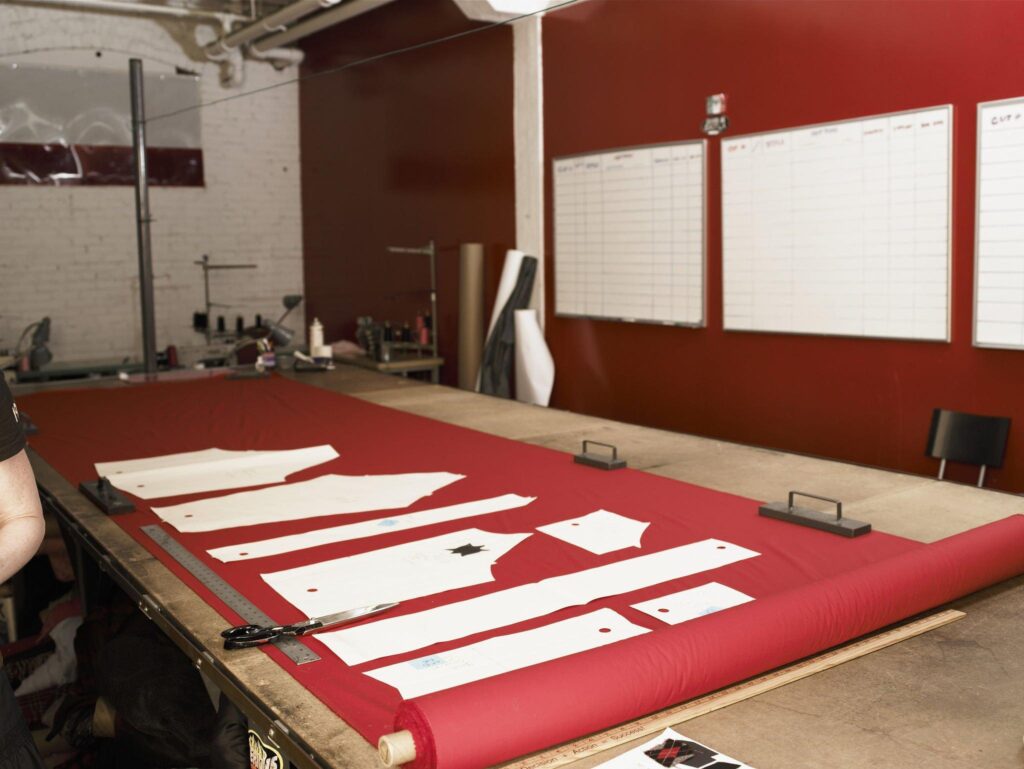 Let's Get Started With Making Your Pattern
There are only a few tools that every pattern maker will have. As time goes on, pattern makers add new tools to the process of drafting, but their main tools that stay the same.
Patterns are either made for one client or made in standard sizes for a wider range of customers. To make a flat pattern, you must take accurate measurements of different body parts of the model. You must also know the size a piece of clothing suppose to be when it's done.
Adding Designs And Styles
The first draft of the pattern is made based on the customer's body size. Adding different styles to your design is what makes it a fashion statement. Which sets it apart from a generic design. This could mean adding and designing sleeves, changing the shape of the neckline, and so on.
Evaluation Of Your Design
It's the adjusting of basic paper patterns to fit different sizes. In consumer markets where sizes change instantly. Paper grading is a quick way to make different sizes by enlarging or shrinking a single template.
After you've drawn your pattern on a piece of paper, you'll need to turn it into a 3D image. So you can make any last-minute changes and see how it will look on a body. Draping comes into play here.
Once the pattern is made, it's placed on a piece of fabric and held in place temporarily with needles. Draping means dressing a customer with the pieces of fabric you cut out based on your design.
At this point, you can see your design on the customer's body. Then make changes so that it fits the shape and curves of your customer's body.
Digitalize Method For Pattern Making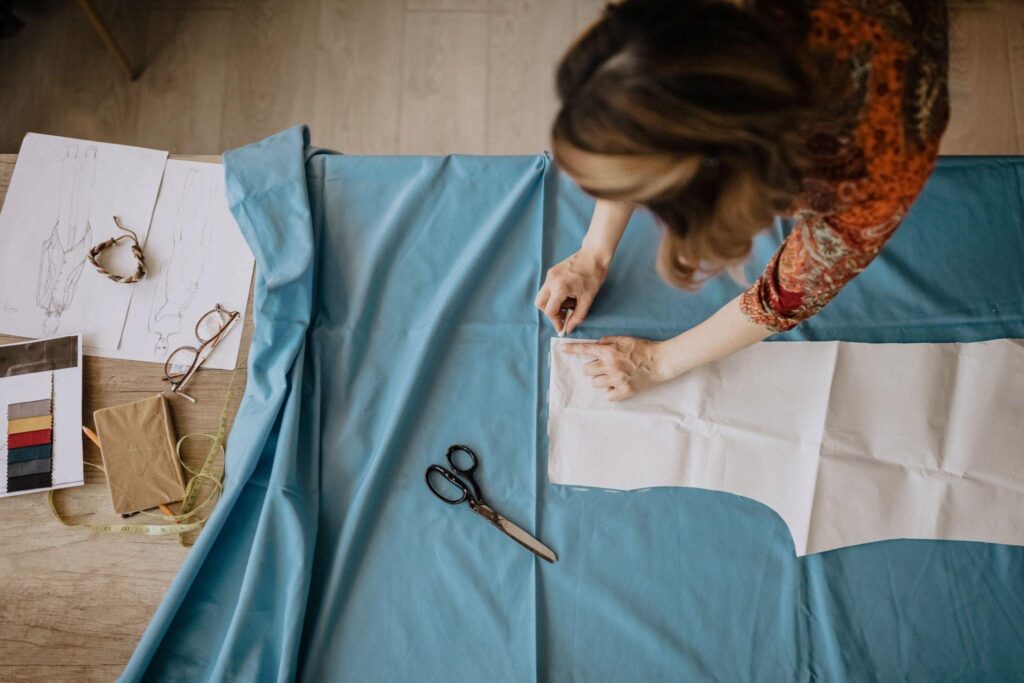 In the past, when clothing patterns were made by hand, making two different versions of a template meant making two different sets of clothing patterns. This meant that it took twice as long to manually cut out the templates.
With digital patterns, it only takes a small amount of time to make small changes like these, since all you have to do is copy and paste the original. Not only that, but as computer programs for drawing have improved, it has never been faster or easier to use CAD software.
Using A Computer System To Make Patterns
Most large manufacturers use computer-aided design (CAD) systems to make patterns. The pattern maker uses a device to move small graphic patterns on the computer screen. Geometry drives can change the shape and size of a pattern in an infinite number of ways. So that pattern makers can make patterns by hand on a computer.
The designers put all the block patterns that they need to use into the system. The computer system allows the designing of garments patterns with them.
When the parts of the pattern for the cloth have been made on a computer using a pattern design system.
The next step is the pattern generation system.
Pattern Generation System 
It's a system known as Automatic Test Pattern Generator (ATPG). This system makes the pattern for parts like linings and any defects automatically. These programs are only used once a design is final.
How To Make Patterns For Clothes Endlessly
Professionals make commercial patterns in many different ways. Despite what pop culture has led people to believe, not all these ways involve 3D dress forms.
More and more pattern makers are using computers to make patterns. That can be used to cut and put together real men's and women's clothes.
No matter what tools you use. The process of making a pattern starts with a sketch of the garment that the designer wants to make. Even though this basic sketch is made with the human body in mind. It still needs to go through quite a few more steps to become a garment that will fit a human body.
How To Make Your Favorite Clothes Into A Pattern
Does your closet have that one dress or pair of jeans that you wish you could clone because they are so good?
You can!
Learn how to make a pattern from an existing piece of clothing so you can make your favorite clothes again!
With this skill, you can make a new version of a cute vintage blouse you found in a storeroom or your favorite jeans that are almost worn out. I want to learn these skills because I want to look good in my pants. In the time it takes to fit a new pants pattern, you could make an exact copy of a pair of pants that fits well and be ready to sew. Change the fabric or color to make the same style work for a different season.
Let's see how to draw patterns on clothes:
Put the piece of clothing flat on a work surface and trace the seam lines to make a copy.
Choose a fabric that looks like the original clothing.
Take note of where the seams meet, where the collar ends, and where the buttonholes and pockets will go. make sure to write the grain lines on all your pieces' labels.
Double curves with a flexible ruler.
Divide your clothing into two halves and then fix any parts that aren't quite right.
Make all your pattern pieces, and then sew a muslin to see how well they fit.
Here are Some Patterns For Making Clothes 
This print is made up of teardrop-shaped designs that are usually put together to make a flower pattern. Sometimes, these prints' colors are very loud.
This pattern is common in men's suits and other business clothes.
This style is called "herringbone" because it is meant to look like a fish's bones. It's a good material for a coat or jacket that you wear casually. Jeans look good with herringbone. It manages to look both rough and polished at the same time.
These are easier to mix and match with the right colors or even a pattern. When you want to keep things simple, solid colors are a good choice.
This is the pattern you get when you make squares with straight lines going up and down and side to side. Here are some different ways the checked style can be used.
It's usually used to describe a pattern with squares of the same size and color on a white background, like a checkerboard.
How To Find Clothing Manufacturers For Your Startup
In this time of fast fashion, it can be hard to find clothing manufacturers. If you want to start your own clothing business that sells custom-made clothes, you will need your own designs. Also, to make these designs into products, you'll probably need to work with a clothing manufacturer.
How Communication Impact Final Quality Of Product
First learn, what is tach pack design. Its Technical Pack is, in simple terms, a plan for a finished garment. It has all of the technical details and design information that make your product special. It is mostly a way for designers and manufacturers to talk to each other. The "quality" of this communication has a huge impact on the quality of the finished product.
Why Making Patterns Is Important In The Fashion Industry
Clothing is a very important part of looking good. Because clothes are so important, there is a big market for them all over the world. When entrepreneurs and designers work together, they make huge fashion designer patterns houses.
In this case, making a new pattern is an important part of the fashion business. Before making new clothes, you have to make a pattern. You can't get an idea of how to make clothes without a pattern. Because in the fashion pattern design business, clothes of any style are made for sale.
Why Size is Important In Patterns For Clothes Making?
The use of patterns in the clothing business is like drawing a copy of each part of a garment on a flat piece. For each part of the clothing, a separate pattern is made according to the size of the body part.
Before designing a pattern one has to predict how many pieces of the pattern will come in use. The body size of the person for whom the garment is in making will be in focus. Sometimes, the body size of a person is not taken into account when a garment is in process. Then it can cost you a lot if the size is not measured properly for designing the pattern.
Why Making Clothes Patterns Is Essential
Men wear shirts, T-shirts, polo t-shirts, pajamas, and pants. While women wear saris, salwar kameez, tops, pajamas, pants, and leggings. Again, every piece of clothing pattern designs has a different pattern. Even clothes with the same name can look different because of the pattern.
Without a pattern, fashion designers can't show how they think. Pattern-making for fashion design is essential so that more pieces of fabric are designed in less time. The fashion industry is always coming up with new styles. So, in these situations, there is a lot of focus on making patterns.
A single pattern of any design uses to cut out thousands of pieces of clothing. Because there are many problems when someone tries to cut thousands of pieces of fabric to the same size. Because of this, making a pattern first is essential. If there is a mistake, it will detect in the first stage. So a lot less clothing will go to waste. With a little change to the pattern, the garment looks like a new design.
Today, the fashion industry is always coming up with new styles. Because of this, each of these designs needs a different set of patterns. Without making a pattern, it is not possible to give the fabric the look of a design right away. Patterns on clothes show how creative the minds of designers are.
Now To Sum Up
Buyers are more interested in clothes that look good. Fashion experts are now more interested in how clothes are made than in how flashy they are. Even though there are more designs and colors, they don't bring any more happiness.
And in this case, the way clothes are made is playing a role that has never been seen before. Clothing pattern in the fashion industry is essential right now. The more different patterns there are on clothes, the more new styles will come out.